When it comes to these food-loving freeloaders, it's not the adults you have to worry about, but their children! Pantry pests have garnered quite a reputation here in Southeast Florida. Some of the most common types of pantry pests in Pompano Beach are: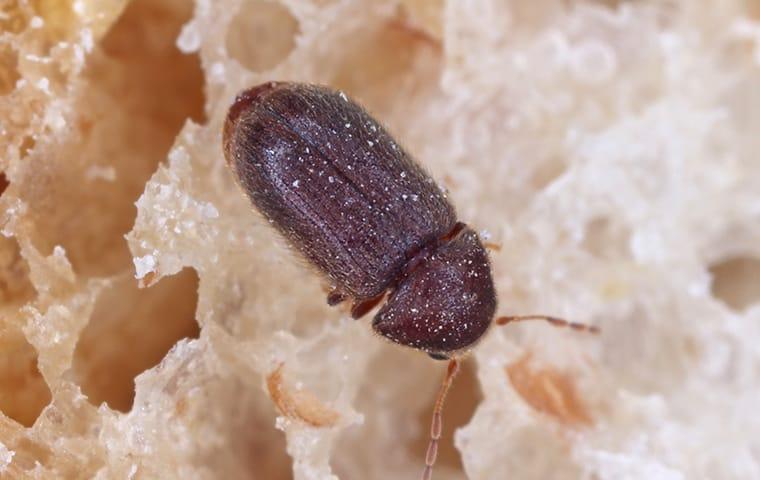 Cigarette beetles
Indian meal moths
Drugstore beetles
Infestations start with adult bugs choosing to lay their eggs in dry goods, products meant to act as 'baby food' for their growing larvae. These products often include foods such as rice, cereals, flour, and even some types of cardboard. Pantry pest infestations can become more and more severe over time.
Pompano Beach Property Owner's Pantry Pest Prevention Tips
Pantry pests are insects that are sometimes found in warehouses and grocery stores and even make it into household residences. What can homeowners who have never seen a pantry pest do to keep them out?
Check the packaging of dry goods before making a purchase. This includes checking bags for tiny holes, tears in the plastic, or other markings that indicate the food has been opened. If possible, check the contents for signs of pest activity or eggs. Should these be found, it will be important to refrain from buying the product and inform the store manager of the situation.
Proper food storage after purchase is vital to maintaining a healthy and pest-free pantry. Do what you can to make packages airtight, and use sealable plastic bags and containers to lock out anything that could get inside.
Many pests get into the home through sliver-like entry points along the walls and foundations of the home. Use waterproof caulking to seal up cracks and crevices that have formed along with the interior and exterior of the home.
Replace any compromised door and window screens with new sets, or patch up tears with screen patches.
Just because you haven't seen a pantry pest doesn't mean that there aren't any in the home. If you are concerned that the signs and symptoms of pantry pests are present on your property, schedule a free home inspection with the experts at Pest-Aside right away. We will be happy to diagnose your pest problem.
Pests Inside? Get Pest-Aside!
Pantry pests may not be the first things that come to mind when thinking about household pests, but homeowners who have experienced an infestation of these flying furies understand that insects such as cigarette beetles, Indian meal moths, and drugstore beetles are some of the most frustrating creatures to have in a house. Long-lived larvae and an incredible rate of reproduction allow these pests to grow and thrive if left unchecked. Home DIY methods may help to cut back on their numbers, but they will do little to eliminate chronic infestations.
Rely on the pantry pest experts at Pest-Aside today to resolve your home infestation and restore some much-needed peace of mind. Our professionals have a long-running history of delivering great services at reasonable prices. We have served the businesses and residents of Pompano Beach for over 25 years and counting. We provide inspections, treatments, and follow up visits. There's no task too big or pest too small for our team to handle.
Push the pantry pests away for good by contacting your local Pompano Beach Pest-Aside today. Our service agents are standing by to provide more prevention advice and/or assistance in ridding an on-going infestation.